BanglaHunt, Pallab Ghosh: External Affairs Minister Sushma Swaraj warns West Bengal Chief Minister and Trinamool supremo Mamata Banerjee to watch her words. She said in politics nothing is certain and Banerjee may have to interact with same Prime Minister in future as there is a strong Modi wave in the country. Swaraj was reacting to the comment of West Bengal chief minister saying she feels like slapping Prime Minister Narendra Modi when he visits Bengal next.
PM Modi during a rally in Sreerampore, Hooghly in Bengal had accused the Trinamool party of harassing people by supporting the 'extortion mafias'. The prime minister called Trinamool of the 'party of extortionists'. Minutes later from a rally in Bengal, Banerjee fumed and said "Trinamool ke tolabaj der part bolle aamaar icchey kore Modi ke thashiye ekta chor mari…" (I feel like slapping Modi hard when I hear him calling Trinamool a party of extortionists).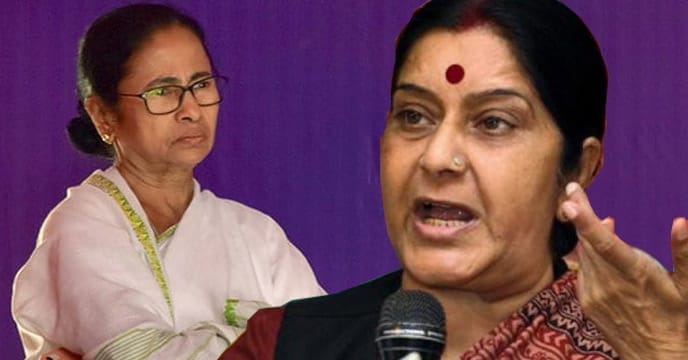 Earlier, Mamata Banerjee had sparked huge controversy by saying she dose not accept Narendra Modi as the Prime Minister of India and shall prefer talking to the new Prime Minister who will assume office after May 23.